Dr. Hengster, Loesch & Kollegen GmbH
Rathenauplatz 1A, 60313 Frankfurt am Main
T +49 69 9288 497 0
F +49 69 9288 497 28
info@hengsterloesch.de
www.hengsterloesch.de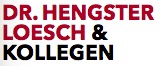 COMMERCIAL REGISTER
Frankfurt am Main Local Court HRB 101118
REGULATION
Dr. Hengster, Loesch & Kollegen GmbH acts as a "tied agent" within the meaning of Section 2 (10) of the German Banking Act (KWG) and provides financial services of placement business and investment advice pursuant to Section 1 of the German Banking Act and acts solely for the account and under the liability of AHP Capital Management GmbH, Hochstrasse 29, 60313 Frankfurt (section 2 (10) KWG).
MANAGEMENT AND RESPONSIBILITY FOR CONTENT
within the meaning of section 6 of the German Interstate Media Services Agreement (MDStV)
Dr. Rupert Hengster und Lars J. Loesch

CONCEPT AND DESIGN
Yvonne Meyer-Lohr, Büro für Gestaltung
www.meyer-lohr.de
TEXTS
Susanne Kalies
PHOTOGRAPHY
Jens Braune del Angel, Michael Kenna, Andreas Reeg
PROGRAMMING
Erbil Salihoglu, ESITD, www.esitd.de
DISCLAIMER
The content of this website serves to provide information to potential clients. It is no substitute for advice and is not to be construed as an invitation to make certain investments.
Dr. Hengster, Loesch & Kollegen presents all the information on this website to the best of its knowledge and belief, without claiming that it is completely accurate and up to date at all times. Any information on this website may be modified, removed or supplemented at any time without prior warning. Dr. Hengster, Loesch & Kollegen therefore accepts no liability whatsoever for losses or damage resulting from use of this website or links to third-party websites./p>
Despite careful monitoring of content, Dr. Hengster, Loesch & Kollegen assumes no liability for the content of externally linked pages. The operators of such pages are solely liable for their content. The company further accepts no liability for manipulation of users' IT systems by unauthorised parties.
CUSTOMER COMPLAINT
As consumer you have the right to forward your complaint to Schlichtungsstelle bei der
Bundesanstalt für Finanzdienstleistungsaufsicht - Conciliation Board at the Federal Financial Supervisory Authority
Graurheindorfer Str. 108, 53117 Bonn,
Telefon: +49 228 41080,
Telefax: +49 228 410862299,
Internet: www.bafin.de/schlichtungsstelle,
E-Mail: schlichtungsstelle@bafin.de
as competent body for alternative dispute resolution.